ENHANCE, SIP, REPEAT
REVOLUTIONIZE YOUR WINE EXPERIENCE WITH VINOVATION O2 WINE™ AERATOR

THE POWER OF AERATION
Unlock the full potential of your wine with the O2 Wine Aerator. By infusing your wine with oxygen and enabling proper aeration, the O2 Wine Aerator enhances the flavour profile of your wine, creating a smoother, more enjoyable taste by gently softening the tannins, acidity, and sulphites.
EXPERIENCE WINE EXCELLENCE
At Vinovation, our utmost priority is to enhance your enjoyment of wine. We truly understand the value of your time, which is why we have meticulously crafted the O2 Wine Aerator.
The O2 Wine Aerator is designed to save you time while offering a visually pleasing spectacle during your wine-savouring moments. With this revolutionary device, we aspire to elevate your wine appreciation to new heights, ensuring that each sip is a delightful experience you can relish. Cheers to unforgettable wine moments!
CUSTOMER REVIEWS

JAMIE DRUMMOND
Wine Writer / Sommelier ~ Good Food Media
"Over my 25+ years in the wine industry I have experimented with innumerable gadgets that have all professed to improve one's enjoyment of a bottle of wine. I can say with certainty that I have experienced no better way of rapidly aerating one's red wine beneficially, with an undeniably positive impact upon both the wine's sapidity (flavor) and texture (mouthfeel), than the Vinovation O2 Wine™ Aerator."

TONY & ANNA MARTINS
Martins Vineyard Inc. (VQA designated)
"We have been using the Vinovation O2 Wine™ Aerator and believe its an amazing product. It is simple to use, and simple to clean. Whether entertaining family and friends or a night in, this product allows the aroma and flavour to be much more pleasurable. Thank you Rocco!!! Cheers to your creation."
KIMMBERLY CAPONE
Kimmberly Capone Interior Design
"I have never been a wine drinker until just recently, and really had little knowledge about wine, Pinot Noir became my favorite red wine as I liked the light refreshing taste out of the bottle. I found most wines to be too harsh tasting. I was asked to do a taste test for the new Vinovation O2 Wine™ Aerator because of my unbiased opinion. I was told that we were testing an Amarone wine and it was a much bolder and heavier wine than my Pinot Noir. It was never explained that wine needed some air time to bring out its full potential. We all hear the term 'Letting the wine breathe' but what does that mean? After 20 minutes of aerating this wine I was very surprised at the result. The wine did not attack your sense of smell while bringing your glass up to drink. The wine had a silky smooth taste lingered with a taste of dark chocolate! I now realize that all this time I have missed out due to the fact that I have been tasting wine the wrong way. So for those out there similar to my experience with wine, I highly recommend using this aerator and see if new opinions open up for you. Thanks Vinovation!"

ANNA TSEPELIS
Renewed Wine Lover
"As a headache-prone person who is also sensitive to sulfites and tannins, it's been many years since I've been able to enjoy wine. Although I love reds of all varieties, I could never have more than two sips of any wine without triggering a headache and feeling cloudy the next day. I didn't think I could ever have wine again until I tried the Vinovation O2 Wine™ Aerator. From the first sip, I immediately noticed the difference in the wine and my reaction to it. The aromas and flavours really opened up, there was no harshness or astringent taste or smells in the glass, and I was able to have two glasses whilst feeling fantastic all evening! Even more surprising is how clear and refreshed I felt the next day; no trace of a headache, cloudiness or stuffiness. Thanks to the O2 Aerator I'm able to truly enjoy wine again!"

JOE TASILLO
Amateur Wine Connoisseur
"I have been savouring red wines for the last 17 years. More specifically I enjoy big bold reds, mostly Italian and California wines. Through experience I came to realize letting a red wine breathe for a few hours in a decanter brings out the best taste the wine has to offer. Recently, I discovered an interesting product, the O2 Wine Aerator. Within a few minutes it makes a bottle of wine reach full flavour. It's simple to use. I usually run it for 10 minutes to enjoy a big bold red wine, like a Barolo or Amarone as if it was decanted for two hours. For when you don't want to wait hours to enjoy a great bottle of wine, I highly recommend this product."

ALEX SETTINO
Wine Lover
"I was somewhat skeptical of these wine aerators that claim to open up wine in such a short time. Being a wine naturalist, I always believed that wine needed time to open properly. Well I'm here to tell you I was wrong. The Vinovation O2 Wine™ Aerator has saved me waiting an hour or two before being able to enjoy a bottle of wine. I usually don't leave reviews, but I was so impressed with this product, I felt I had to let others know. A definite must for any wine lover."
GET YOUR VINOVATION O2 WINE™ AERATOR
Every order of the O2 Wine Aerator includes:
+ The wine aerator
+ A non-slip stand to store & clean your aerator
+ A beautiful, custom decanter to fit your new aerator
+ A charging cable to keep everything powered up
Shop Now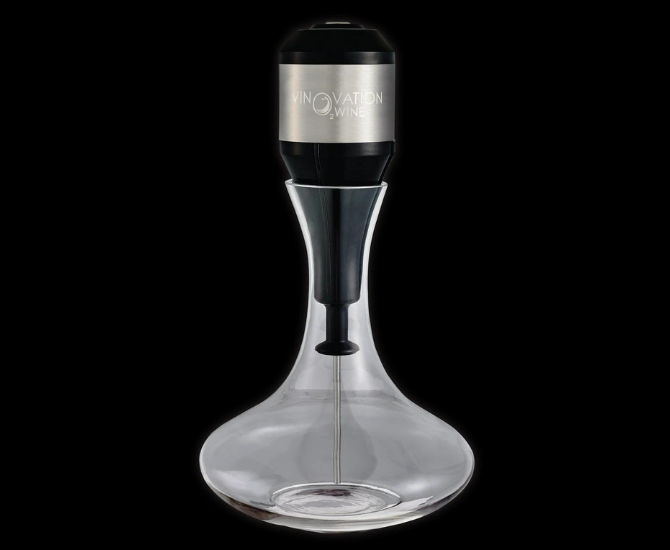 HOW IT ALL BEGAN
Wine has been a part of my life since my earliest childhood memories. Being born in an Italian family that immigrated from Southern Italy, we were always busy preparing to preserve something every season. From curing meats to making homemade tomato sauce. And, most importantly, my favorite time of the year, making wine!
Read the Story